Tips for Dog-Friendly Gardening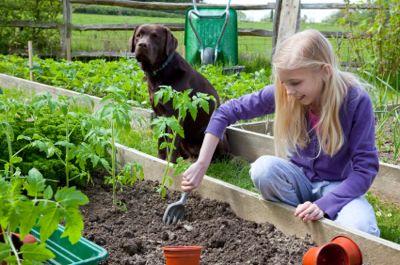 Dog expert Wendy Nan Rees offers some great tips for gardening with your dog in mind.
About Gardening With Your Dog in Mind
Grow Organically
With summer right around the corner, have you ever thought of giving gardening a try? It can be fun, and you might even be able to grow a few treats for your dog to enjoy. Maybe you live on a farm or have a large backyard. Perhaps you're like me, and you live in a city with just a small three-by-two foot plot of land and are using container planting with pots everywhere so you can still do a bit of organic growing. This can be great fun for you and, without a doubt, your dog is going to enjoy every step of the way. From turning the soil to planting, watering, pulling weeds and picking, your dog will enjoy hanging out with you right up to the final stages of eating what you have produced. Just make sure your dog doesn't take the opportunity to sneak a few samples and eat until he gets sick.
If you want to keep your garden "Fido-friendly," planting a totally organic garden is really the only way to go. You should not use pesticides or commercial fertilizers and only plant foods that are safe for you, your dogs and family. You also need to make sure the stakes and other equipment you use are safe. This way you don't have to worry about your dog getting hold of anything toxic.
Dog-Proofing Your Garden
Make sure you close off your garden from your dog when you are finished working for the day. He needs to know it is okay to enter with you, but it is never okay to enter without you. I had to go to the "big daddy" way of saying "No!" to keep my dogs from getting into our garden. We had to put a Scat Mat® in front of our garden gate. They hit that once, and they never went back again. We felt bad, but after so many gardens eaten before their time, what was more important - their appetite or the garden?
Just like children, dogs need to acquire a taste for vegetables. I love pureed pumpkin because it offers so many vitamins and fiber, as well as being sweet and naturally low in calories. Other vegetables to try include:
Zucchini
Yellow squash
Carrots
Alfalfa sprouts
Broccoli
Asparagus
Corn
Green beans
Peas
Avoid planting cabbage and onions in a dog-friendly garden.
Garden Treats
Here is a recipe you can make that uses ingredients you can grow in your own garden. This recipe freezes well for up to three months in single servings.
Little Man Stew
1 pound of cubed beef, duck or lamb
2 cubed peeled sweet potatoes
1 cup of vegetable pasta, dry, any shape (You can make homemade if you prep a few days ahead.)
1 Tbsp olive oil
½ cup of cooked lentils
1 cup of chopped green beans
1 cup of canned corn, drained
1 cup peas drained
½ cup of cooked brown rice
1 Tbsp of yellow corn meal mixed with 2 Tbsp of cold water (Set aside)
6 to 10 cups of vegetable, beef or chicken broth
I like to cook this on top of the stove; it makes the house smell wonderful. In a Dutch oven, stew pot or large stock pot, add a tablespoon of olive oil at the bottom. Next, brown your choice of meat in olive oil. Once well-browned on all sides, add the rest of your ingredients except for your corn meal mixture. Bring the pot to a boil, cover and simmer for 2 ½ hours. Depending on which type of meat you've chosen, it may be ready in an hour and a half; just check to make sure that the meat is cooked through and your potatoes and pastas are soft. At this point, mix your corn meal mixture into your stew. Bring the pot back up to a boil for 3 to 4 minutes. This will thicken your stew. Remove the pot from the heat and cool. I like to freeze individual portions of this stew in large ice cube trays. This way I have single servings that I can pop out of the freezer, heat and serve over kibble.
As you can see, gardening with your dog in mind can be a rewarding experience for you both. Happy growing!
More Tips from Wendy