Adorable and Hilarious
Cute little puppy dogs innocently going about their day are sure to make you crack a smile. Sometimes, these pups just don't realize how funny they can be. Take this English Bulldog puppy, for example. He looks like he's just wishing for someone to play with him.
The Nose Licker
Laugh if you want, but can you touch your nose with your tongue? As long as it doesn't get too excessive, an enthusiastically happy licking from a particularly joyful puppy can be a fun highlight of your day. It definitely will give you a serious case of the giggles.
A Couple of Mooners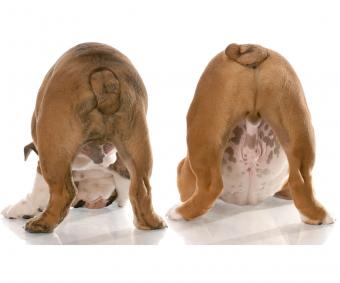 Surprise! You just got mooned by these mischievous pups. Then again, maybe they're just trying to help you get into shape. This might be what happens in a yoga session when your canine companions take the downward facing dog pose a little too literally. Keep those back legs straight!
Easy Riders
Sit? Roll over? Jump through the hoop? Those dog tricks are far too simple for these couple of advanced cyclists. Move over, Lance Armstrong. It looks like these pups are practicing for the next Tour de France. They just have to convince race officials that they can compete as a pair.
Santa's Elves
If you're looking for ideas for your next Christmas pet photo shoot, this picture could be an adorable place to start. Dasher, Dancer, Prancer and Vixen may be faster, but none of Santa's little helpers could be any cuter or sillier-looking than this festive pair of canine elves.
K-9 Patrol
Perhaps borrowing a bit of inspiration from police dog Chase from the PAW Patrol animated series, this German Shepherd puppy has some clear aspirations to serve and protect. He's on the case and ready for a ruff-ruff rescue in his adorable police pup costume.
Hot Dogs
You might know that Dachshunds are colloquially referred to as "wiener dogs" from time to time, but this picture might be taking that name a little too literally? Do you want mustard or ketchup? Given the breed's German origins, perhaps some sauerkraut is more appropriate, though these pups may not even be Dachshunds at all!
For a double or even a triple dose of puppy love, some pictures of funny looking dogs or videos of the cutest puppies might be in order. Sit, stay, and enjoy!