Dog and Puppy Designer Luxury Clothes and Collars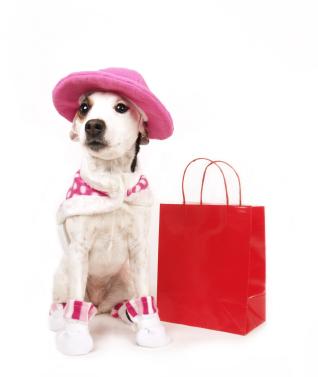 Luxurious dog and puppy designer clothes and collars aren't just for Hollywood's privileged pooches. From gorgeous doggie dresses to shoes, sunglasses, and sparkling collars, your dog can look red carpet-ready too!
Trends in Dog and Puppy Designer Luxury Clothes and Collars
There was a time when canine high fashion consisted of bulky sweaters and the occasional festive bandana around the neck. Doggie fashion has come a long way since then. Today, dog and puppy designer luxury clothes and collars are a hot commodity, and everyone's getting in on the act.
Let's take a look at what the well-dressed canine will be wearing this year.
Designer Luxury Dog Clothes
What's hot in canine fashions? For the ladies, there's nothing more in demand than dresses from the Marilyn Monroe Collection at The Pink Hotdog. After all, Marilyn was a style icon way before her untimely death, and interest in her image and fashion sense hasn't waned much in the proceeding years.Love Marilyn's look in The Seven-Year Itch? It can be yours, or rather your dog's. The infamous pleated white halter dress has been recreated for luxury canine fashion and secures easily with a wrap-around ribbon tie. It's a sure bet there won't be a better dressed pooch in the neighborhood. The cost to look this fabulous: $103.99.
The Pink Hotdog also offers a stunning gold lamé gown recreated from another Classic Marilyn Monroe film, Gentlemen Prefer Blondes. This elegant frock features a V-back line with a flared skirt, and attaches with a Velcro closure across the chest. This gown will turn your pet out in style for the highest society function on your social calendar this year. The dress is priceless, but you can take one home for $107.99.
Let's not forget about paw wear. Mushu Canine Boutique carries an assortment of sequin studded footwear that's enough to make any pup blush. This designer boutique also stocks fashion sunglasses, just in case you want your dog to have that Paris Hilton look.
Luxury Dog Collars
Rhinestones are hot, hot, hot! Morrco offers a patent leather luxury dog collar embellished with fabulous rhinestones. All the other dogs will be green with envy when you walk Muffy down the street wearing this dog collar. Sizes run x-small through medium with a price tag of $34.99 plus shipping.
Your dog will definitely stand out from the crowd in a designer collar from Coach. Choose a classic Signature C style, polka dots, solid colors and more. These collars are available in neck sizes ranging from 8.5 to 26 inches. Prices range from $68 to $78 and matching leashes are available for $68 to $158.
Conclusion
There's definitely no shortage of dog and puppy designer luxury clothes and collars on the market this season. The real problem will be resisting the urge to go dog wild and buy one of everything.
External Links
You can purchase dog and puppy designer luxury clothes and collars at the following retailers: