7 Posh Dog Birthday Gift Ideas
As any loyal pet parent knows, your dog deserves his special day. Whether you're giving tried and true treats or a sumptuous day at the spa, what better way to celebrate this treasured member of the family than by giving birthday gifts.
Canine Couture
Designer outfits are not just for celebrity pet parents. Shops now specialize in decorative accessories that make a canine couture fashion statement.
Dog Collars
Doggie Couture Shop offers a wide range of decorative dog collars from simple to ornate starting at $25. Find everything from collars adorned with Swarovski crystals or diamonds, to floral printed and even some with crochet embellishments. With one of these collars, your dog will be the best-dressed on the block.
Anklets and Necklaces
For as little as $8, you can walk your dog in style with anklets from the Posh Puppy Boutique. Funny Fur also has a line of fashionable doggie jewelry that will make your dog look and feel like a princess. For example, the Louisdog Vanilla Candy Necklace sells for around $76 and features Swarovski crystals and faux pearl bobbles attached with a vintage-inspired collar for a chic look.
Pet Pampering
Consider the gift of pampering for your canine "prince" or "princess". You can treat your pooch like royalty with gifts that cater to his senses.
Professionally wash your dog using the Pet Wash Enclosure, which sells for just over $500. The spa's key features include:
6 mist jets for soaking plus a shower wand with on/off controls.
Does not need to be installed
Accommodates almost any size dog
Dog Cologne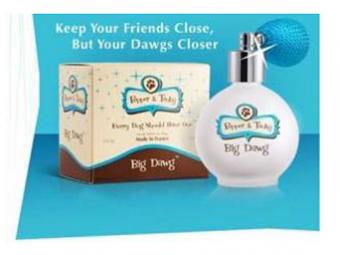 Dogs have a natural odor that can sometimes be unpleasant. Big Dawg Perfume combines bergamot and neroli with a touch of lavender and musk. It retails for around $44. If Big Dawg is a tad too much for your mutt, Posh Puppy Boutique has a line of aromatherapy for your dog that is designed to relieve stress for your pooch and make him smell a bit better.
Treats and Toys
Although your dog's sense of taste is the least developed sense, she will happily devour a gift of her favorite biscuits or treats. When shopping for healthy dog treats, read the labels and pass on heavily-processed snacks with a long list of unrecognizable ingredients.
Doggie Gift Packs
Exclusively Dog's Exclusively Pet Perfect Pooch Gift Pack combines four different kinds of assorted tasty treats into one beautifully packaged gift for your special fur baby. It runs for about $25.00 and all the treats are made in the USA with natural, Kosher ingredients.
Grreat Choice Flattie Animal Dog Toys
Birthday gifts that involve toys are always a hit with dogs, especially when those toys look and sound like prey. If you do buy a plush toy, purchase one specifically made for pets. Avoid regular stuffed animals since they may have small decorations that can become a choking hazard for dogs. Grreat Choice dog toys are fun and will keep your dog active. The toys can be purchased from PetSmart, or your local pet store for $4.00 to $5.00 each and offer:
Squeakers inside
Stuffing-free
Easy care instructions
An Extra Special Birthday
In addition to getting birthday gifts, consider throwing a birthday party, complete with your dog's own birthday cake. Remember though, the most important gift you can give your dog is your attention and time. While the extras are nice, it's your attention that will make your pooch feel extra special and loved.