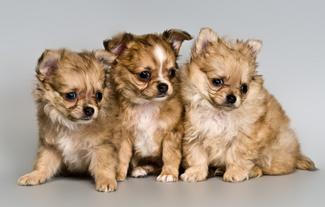 Do you need info about how to sell puppies? Learn the basics as well as other information that every responsible breeder should know.
Learn How to Sell Puppies
Ways to Advertise Puppies for Sale
First, you have to get the word out that you have puppies available.
Place an ad in your local newspaper.
Post a flier on your vet's bulletin board.
Post a flier at local pet supply shops and feed stores.
Advertise in breed magazines.
A word about selling puppies online; it's actually better to avoid this practice. You really want to meet your buyers in person and see how they interact with the pups before you agree to sell to them.
How to Screen Prospective Buyers
Once the word is out that you have dogs for sale, all kinds of people will come calling. The challenge as a responsible breeder is to weed out the unsuitable candidates and find people that have the time, means and desire to give one of your pups a happy, lifelong home.
A prospective buyer should:
Have enough time to spend with a puppy and train it
Provide truly adequate shelter from the elements
Have a fenced yard so the puppy can exercise safely
Have permission from his or her landlord to house a pet if only renting the dwelling
Realize that dogs require routine veterinary care, including vaccinations and annual check ups
Be able to afford to pay for that veterinary care
Be willing to provide high quality food and fresh water at all times
Understand the grooming needs of the particular breed
Be willing to have the pup spayed or neutered unless the pup is sold with breeding permission
How to Establish the Price of the Pup
There are several factors to consider when you try to decide which price to charge for each puppy.
First, consider the average market price for your breed. This will help you determine a baseline price for your puppies.
Factor in the price of any veterinary care the puppy has received, including initial checkup, dewclaw removal, vaccinations, testing for genetic conditions, etc.
The quality of the puppy's conformation is another factor that helps determine its price. Is the pup show quality, breeding quality or merely pet quality? Show quality pups garner the highest prices, while pet quality puppies are usually sold for less.
Price your pups fairly. Profit shouldn't be your main concern, and you don't want to miss placing a puppy in a wonderful home just because the price was simply too high.
Obligations As an Ethical Breeder
Do not sell a puppy before it is at least eight weeks old, and preferably closer to 12 weeks old. Puppies need time to fully wean, and they gain valuable social skills from interacting with their mom and litter mates that will make them better companions as they grow older.
Do not let any pup leave your home before you have had it vet checked for basic health and given at least its first set of vaccinations.
Provide the buyer with the puppy's health record which includes the vet's contact info, worming info, which vaccinations the pup has received, the date they were given and when the next shots are due. The vet should also check carefully for a heart murmur, and the pup's condition should be fully disclosed to the buyer before the sale is completed.
At minimum, you should provide at least a one week health guarantee which gives the buyer time to have the pup vet checked by his or her own vet. Be willing to accept the puppy back and return the buyer's money if the puppy is found to be ill.
Top breeders often offer an additional lifetime health guarantee against genetic conditions such as hip dysplasia, progressive retinal atrophy and other breed-specific conditions that may not appear until after the pup has become an adult. Typically, the breeder will offer a replacement pup, but still allow the owner to keep the original dog if he or she so chooses. The breeder may also opt to accept the original dog back and provide the necessary medical care.
All guarantees should be clearly written out, signed by both the breeder and buyer, and each party should retain a dated copy of the agreement. Keep in mind that the legality of any written agreement may be challenged in court, but it is important to demonstrate that there was a meeting of the minds at the time of sale.
When Puppy Goes to Its New Home
Plan to send a two day supply of the puppy's current kibble home with the new owner. This will give him or her time to go to the pet supply store and pick up more. Also provide a schedule of how often and how much to feed at each meal.
Along with the health record and any written guarantee, provide a copy of the puppy's pedigree and registration application if applicable.
Make sure the new owner keeps your contact information, and be prepared to answer follow-up questions as needed.
A Breeder's Dedication
As you can see, there is quite a bit more that goes into how to sell puppies than a simple cash transaction. A good breeder always puts each puppy's welfare ahead of the profit from a sale. If you find you're unable to do that, you may need to reconsider whether you should breed dogs to offer for sale at all.